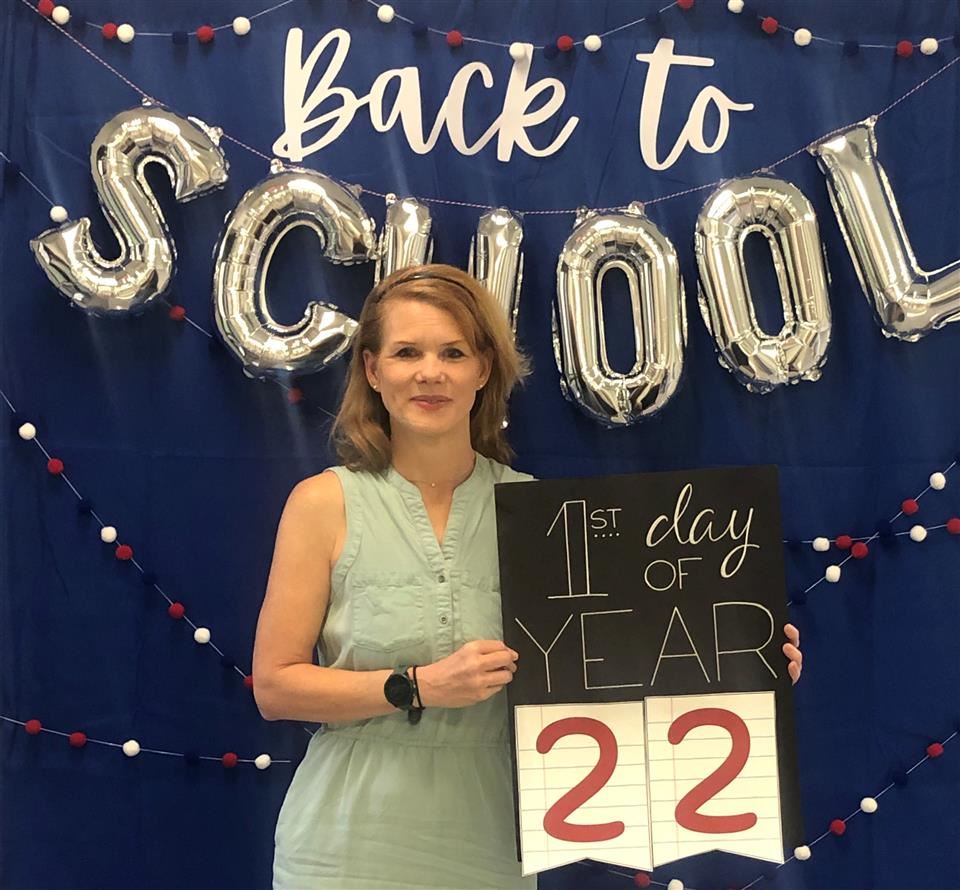 Phone:
Email:
Degrees and Certifications:
Mrs.

Angie Hogeland

2022-2023

Degrees
Master's Degree in Elementary Education K-6: University of Alabama, 2004
Bachelor's Degree in Elementary Education K-6: Jacksonville State University, 2001
Associates Degree in Education: Wallace State Community College, 1998
Extra Training and Accreditation
LETRS Mastery Level Completion, April 2022
LETRS Training Year 2, 2021-2022
LETRS Training Year 1, 2020-2021
AMSTI First Grade Math Year 4, 2018-2019
AMSTI First Grade Math Year 3, 2017-2018
AMSTI First Grade Math Year 2, 2016-2017
AMSTI First Grade Math Year 1 Training, 2015-2016
Deemed Highly Qualified by Alabama Department of Education in Elementary Education and Reading Instruction K-6, 2003
Completed the Reading Academy for Alabama Kindergarten Teachers, 2003
Certified training for Alabama Reading Initiative, 2002
National Federation of State High School Associations Course Completion(s):
Strength and Conditioning, July 2022
Sports Nutrition, December 2021
Level 1 Accredited Interscholastic Coach, September 2021
Coaching Cross Country, September 2021
CPR Certification Renewal, May 2021-May 2023
Student Mental Health And Suicide Prevention, August 2020
CPR Certified, May 2019-May 2021
Engaging Effectively with Parents, May 2019
First Aid, Health and Safety, May 2019
Fundamentals of Coaching, May 2019
Sudden Cardiac Arrest, April 2019
Sportsmanship, April 2019
Concussion in Sports, April 2019
Heat Illness Prevention, April 2019
Experience
Teaching (21 years)
Oneonta Elementary, Third Grade, 2022-2023
Oneonta Elementary, First Grade, 2011-2022 (11 years)
Oneonta Elementary, Kindergarten, 2006-2011 (5 years)
Oneonta Elementary, Third Grade, 2004-2006 (2 years)
Curtiston Primary, Kindergarten, 2001-2004 (3 years)
Curtiston Primary, Student Teaching in Kindergarten, 2001
Tutoring
OES 2nd Grade Word Work and Comprehension, 2023
OES 3rd Grade Work Work and Comprehension, 2021-2022
OES 3rd Grade Summer Intervention, 2009
OES 4th Grade Summer Intervention, 2008
OES 4th Grade Language Arts Tutor, 2007-2008
OES 4th Grade Math & Language Arts Tutor, 2006-2007
OES 3rd Grade Language Arts Tutor, 2005-2006
Committees
Blount County Spelling Bee Coordinator, 2023
OES Spelling Bee Coordinator, 2021-2023
Leadership Team, 2020-2022
OES Hospitality Committee, 2020-2021
OES Ambassador Sponsor, 2020-2021
Blount County Spelling Bee Coordinator, 2017-2019
OES Student Hospitality Committee, 2015-2020
CCRS Team, 2014-2015
OES Leadership Team, 2013-2015
National Elementary Honor Society Sponsor/Adviser, October 2012-Present
Student Teacher Mentor/Cooperating Teacher, March-April 2012
1st-8th Grade Spelling Bee Coordinator, 2011-2017
ARI Team, 2011-2012
OES Leadership Team, 2009-2011
OCS Curriculum and Technology Committee, 2010
Coaching
OHS Head Cross Country Coach, 2021, 2022, 2023
OHS Cross Country Assistant Coach, 2019, 2020
OHS Indoor Track and Field Team Coach, 2021
Organizations & Extracurricular Activities
Fitness Instructor, 2020-2023
2022, 2023 Race to the Tower Co-Director, Benefitting OHS XC and Palisades Park
2019, 2021 Race to the Tower Trail Run Co-Director, Benefitting Blount County JSU Alumni Scholarship and Palisades Park
2016, 2017, 2018, 2019 Covered Bridge Run Race Director, Benefiting the Community Arts Council of Blount County
2017 Flip Flop 5K Race Director, Benefiting the OHS Majorettes
Lester Memorial Youth Council, 2017-2020
St Jude Hero for St Jude Children's Research Hospital-2017, 2018, 2019, 2020
BellRunner for The Bell Center of Birmingham-2016,2017,2018, 2019, 2023
Community Arts Council Board Member, 2014-2018
Community Arts Council Historian, 2014-2015
Band Booster Vice President, 2014-2015
Community Arts Council Secretary, 2014
Lester Memorial Children's Choir Director, 2013-2016
Band Booster Secretary, 2012-2014
Community Arts Council, 2011-2018
Oneonta 4th Grade Junior Troop Leader, 2011-2012
Oneonta 2nd-3rd Grade Brownie Troop Leader, 2010-2011
U8 Rec Softball Assistant Coach, Spring 2010
Oneonta Education Association Secretary, 2009-2011
Oneonta 2nd Grade Brownie Troop Leader, 2009-2010
Oneonta K-1 Daisy Troop Leader, 2008-2009
U6 Rec Softball Assistant Coach, Spring 2009
Oneonta Rec Softball Board Member, 2008-2009
U6 Soccer Head Coach, Fall 2008, Rec League
Oneonta PTO Treasurer, 2006-2008
Tee-Ball Head Coach, Spring 2008, Rec League
Kindergarten Head Grade Mom, 2007-2008
2nd Grade Room Mom, 2006-2007
Tee-Ball Head Coach, Spring 2005, Rec League
Curtiston Primary PTO President , 2003-2004
Honors
OES Teacher of the Year, 2013-2014
Curtiston Primary Teacher of the Month, 2001
Bio
Let me tell you about myself. I am married to Jeff Hogeland. We have three children, a new grandbaby (Cole), and a dog named Charlie. My children's names are Cole, Ethan, and Bethany. My sweet grandbaby is Aiden. My children are all graduates of Oneonta High School. Cole graduated in 2012, Ethan graduated Dec 2016 (walked 2017), and Bethany graduated in 2020. My husband works full time for the Alabama National Guard in Anniston. Our family stays really busy with college, friends, family and church. My favorite hobbies are running, biking, swimming, reading great books, and watching movies.
I have been teaching since 2001. I began my journey to become a teacher at Wallace State Community College. I graduated from there in 1998 with an Associate Degree in Education. I then transferred to JSU. I received my Bachelor's Degree there and my Master's degree from the University of Alabama....Roll Tide!!! Upon completion of my Bachelor's degree, I began teaching at Curtiston Primary in Attalla, renamed Attalla Elementary. I taught Kindergarten there for three years receiving tenure. The following summer, I was hired at OES to teach third grade. After two years in third, I returned to my first love Kindergarten, where I taught for five years. After five years in Kindergarten, I tried something new, First Grade! I loved it so much I asked to stay:) 2021-2022 was my eleventh year to teach first grade. In 2022-2023, I will move back to third. I am excited about returning.
I look forward to our year together. My door is always open to you. If you have any questions or concerns this year, don't hesitate to contact me for an appointment.